Hope – This is what we saw in the eyes of the children whose photos were included with our most recent reports from Uganda!
Claude and Lillian, our social workers on the ground, worked long hours to ensure each child received everything they needed for this new school term. We are so thankful for them. The list of school requirements in Uganda can be quite long! In addition to the typical school supplies such as pencils, pens, erasers, etc., Ugandan children also need to purchase a uniform, black shoes, shoe polish, bathing soap, jik (bleach), TP, a basin and laundry soap to hand wash their clothes, sugar, a broom, a jerry can to carry water from the bore hole for washing, drinking, and bathing – just to name a few!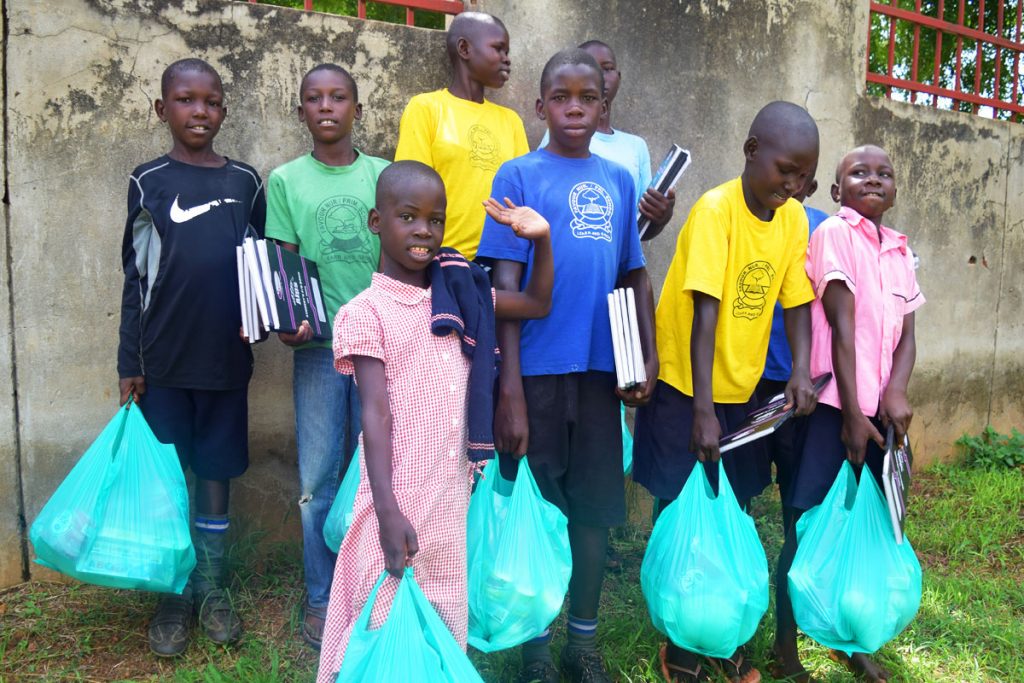 Soroti kids with Miriam, a social worker

Three students from the Omalera Center
---
A day in the life of a boarding student in Uganda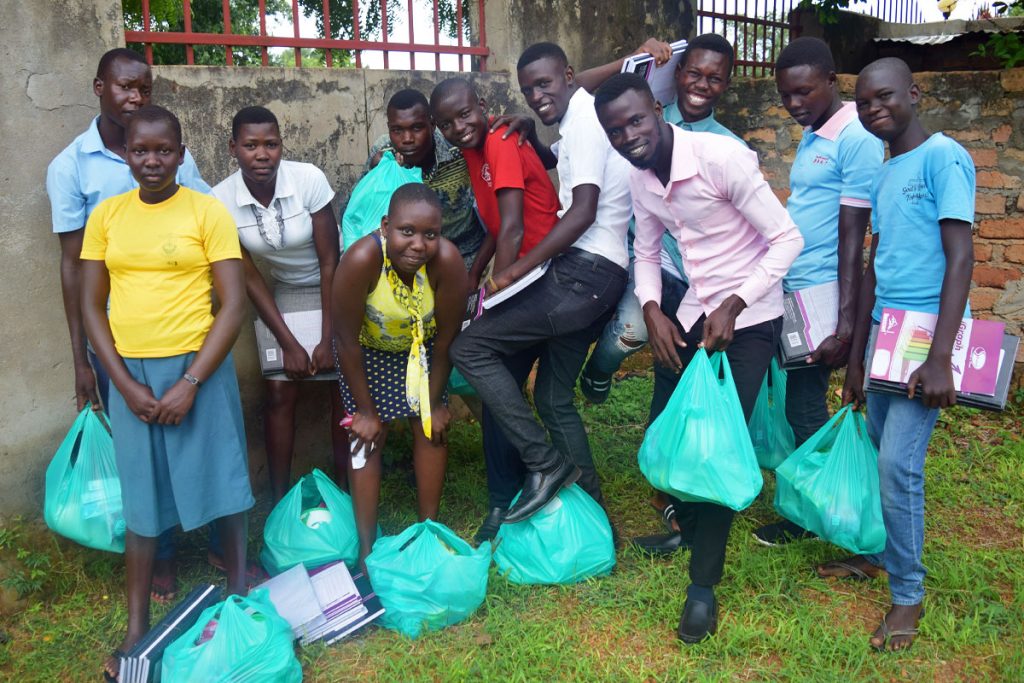 5:00 am
Wake up call. Prefects (student leaders) go from room to room shouting or ringing a bell for kids to wake up and prepare for the day. Middle and Upper students go to morning preps, where they study their books.
6:30 am
Breakfast is given to the children by the school cooks. A typical breakfast would include porridge, milk, or tea. Many children bring additional items to supplement the breakfast, such as bread and butter, sugar for their tea, or cookies which are purchased at the beginning of the term and stored in their lockboxes. Breakfast is strictly for 30 minutes. After breakfast, the children return to classes.
12:50 pm
Lunchtime is done in groups. Children can sit wherever and with whomever they like. Children resume classes at 2:00 pm for another 2 1/2 hours.
4:30 pm
Sports and games begin at 4:30. At some schools, children in grades P1 or P2 will go home at this time. Others will have them continue until 5:00 pm when everyone is finished.
5:00 pm
Children return to the dormitory, while others may decide to continue with games, fetch water, bathe, or do anything productive before supper at 6:30 pm.
6:30 pm
Children return to the kitchen once again for supper. Most of the time, supper consists of beans and posho. This is the main food on the menu. Sometimes they will add meat, fish, or vegetables.
7:30 pm
In the evening, children return to class again for preps. These may be guided by teachers on duty or prefects (student leaders). Preps are for children in middle and upper primary.
10:00 pm
Lights out: All children are expected to be in bed. The dormitory captains monitor rooms frequently and have a zero tolerance for any trouble.